COVID-19
Learn how we protect
and support our employees
BC Pension Corporation's response to COVID-19
The health and safety of our employees and members is our number one priority. We continue to closely follow public health guidance and update employees regularly on the decisions we make that impact them.
Work from home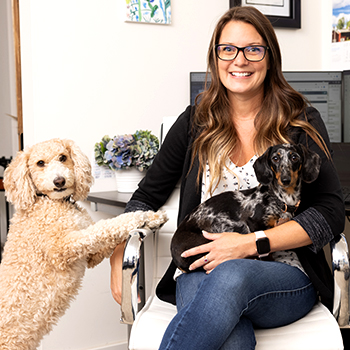 At the onset of the pandemic in March 2020, staff were encouraged to work from home unless it was necessary to be on campus. We moved quickly to enable staff to work from home with all the equipment and furniture they needed – they were given the opportunity to take home extra computer monitors, keyboards and a sit-to-stand desk riser provided by the corporation on a first-come, first-serve basis, to make their work environment comfortable and efficient.
All our all-staff events, including our annual Staff Day and regular all-staff Town Halls were immediately moved to virtual environments.
Return to the office
In spring 2022 our staff returned to the office in a hybrid capacity, we are thoughtful in our approach to keep everyone safe. We want the employee experience to be seamless in this new hybrid work model, so we implemented a system where staff can book their desk and parking spot for the day, which can be easily accessed via an app.
Covid safety plan
We implemented a Communicable Disease Prevention Plan to ensure all staff are safe and feel comfortable when they are working on campus. Several safely protocols were in place, including mandatory mask wearing when engaging with colleagues indoors, a COVID-19 vaccination policy, daily health checks, limiting capacity in common spaces, clean-in and clean-out protocols, and more.
Resiliency training for leaders
We provided training on leadership resiliency to help our leaders focus on their own health and well-being while taking care of others. This training was catered to addressing issues and providing guidance through the pandemic, and will serve leaders well throughout their career.
Focus on mental health
We ran several COVID pulse check surveys so employees could tell us how they were doing. Insight into their experiences and well-being helped us continue to create a safe, healthy, supportive, and productive workplace. We continue to run pulse checks to help us plan and adjust. We also regularly encourage our employees to access our Employee and Family Assistance program.
Want to know more?
If you want to know more about how we protect our employees, please email us.