Why choose BC Pension Corporation?
There's more to us than you might think.
Find your future here
Find out what it's like to work at an award-winning corporation.
Set yourself up for success!
Check out these resources designed to help you succeed in your application process.
Our awards
Every day, we strive to reach higher.
One in nine BC citizens is a member of one of the five pension plans we serve. We provide accurate information, exceptional service and deliver on our promises. People can count on us, whether it's the plan boards, plan members, plan employers, our community, or each other. Our shared purpose helps connect our work to our common goal of making a difference.
Our diverse team includes specialists in client service, pensions, finance, information technology, creative and communications. We cultivate a culture that promotes innovation, continuous improvement and a passion for delivering an exceptional customer experience.
Together, we create peace of mind.
Our values
Our values set the tone for our workplace culture; they connect us and help drive our success. We are accountable to our commitments and measure our long-term value by being at our best every day. Everything we do is in pursuit of excellence to fulfill our purpose of creating peace of mind.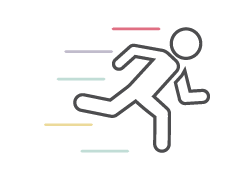 Take action
We anticipate future needs and take the initiative to meet them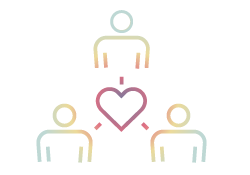 Seek to understand
We seek new experiences and perspectives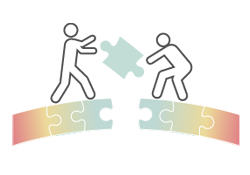 Build bridges
We work together towards a common vision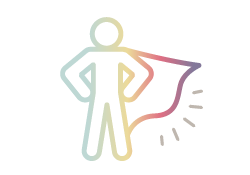 Have courage
We speak up and do the right thing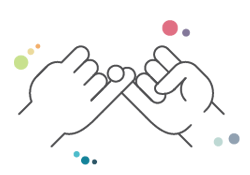 Deliver on promises
We do what we say we're going to do
Why choose us?
We prioritize wellbeing and offer an outstanding workplace experience for all employees to achieve their full potential.
Career development
Recognition
Flexible schedules
Health benefits
Retirement benefits
Health & wellness
Our organizational culture promotes continuous learning and improvement. Ongoing training and professional development opportunities ensure you have the knowledge and skills to excel.

It's important to us to take the time to appreciate each other, to recognize and celebrate our successes. Annual awards honour contributions, accomplishments and long service.

Our Flexible Work Program provides a hybrid work model where staff work some of the time in our beautiful waterfront offices and some of the time remotely. We offer various shift schedules, flex days, balance days, and modified work weeks to suit your role and business needs.

Our comprehensive health benefits program includes extended health and dental coverage and short and long-term disability benefits.

Eligible corporation employees can join the Public Service Pension Plan. Along with you, we will contribute to the plan which will pay you a lifetime monthly pension when you retire. We also offer personal and optional life insurance for employees and their families.

Our positive approach to the health and wellbeing of our employees includes lunchtime seminars, community health activities and more. Additional services such as health and family assistance services are available as well.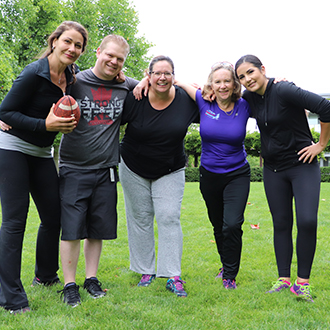 Learn more!
To learn more about our culture and what we can offer you, visit our Community page.
Our people
Discover what makes BC Pension Corporation a rewarding place to work.
John Horn
Director, Performance and Talent Development
My work is at the intersection of people performance and potential. Our team supports transformation with learning, coaching and recognition. Thanks to the inVESTED Scholarship program, I've been able to cover the costs of my Masters of Management in Cooperative Business. The program helps me personally by holding me accountable to apply what I'm learning. The high levels of trust, care, and service at Pension Corporation are truly special. Organizations around the world spend decades trying to build what we have.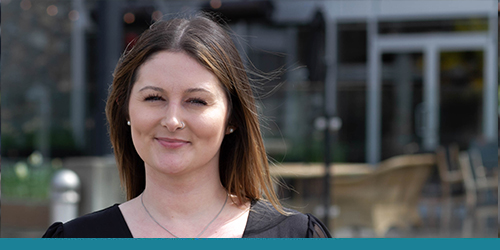 Sydney White
Client Service Administrator, Member Services
I process plan members routine service transactions for all five of our pension plans. I love working here because there are so many opportunities to learn and progress my career. The support is endless, and the people are wonderful. I feel so lucky to work for the BC Pension Corporation team.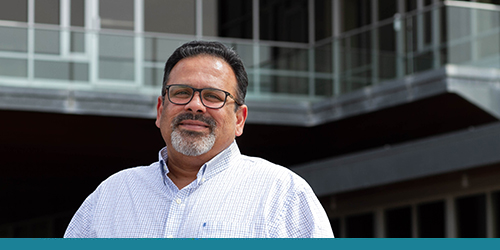 Rajkumar Easwaran
Assistant Director, Portfolio Solutions
I provide leadership to an amazing team of project managers. Together, we support the organization to achieve its strategic and operational goals, from planning to delivery. The corporation is an enjoyable place to work. I love the people-focused culture that supports each one of us to achieve our individual goals.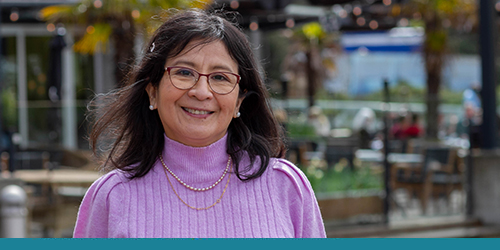 Carmen Ramirez
Accounts Payable Clerk, Financial Services
When I started here as an Accounts Payable Clerk on temporary assignment, I felt immediately welcomed. The support of my inspirational colleagues made it easy for me to adapt to my position. The team at Pension Corporation is a wonderful group of professionals who support each other. We're aligned in our values and encouraged by our leaders to learn and innovate. I'm proud to work for one of BCs Top Employers.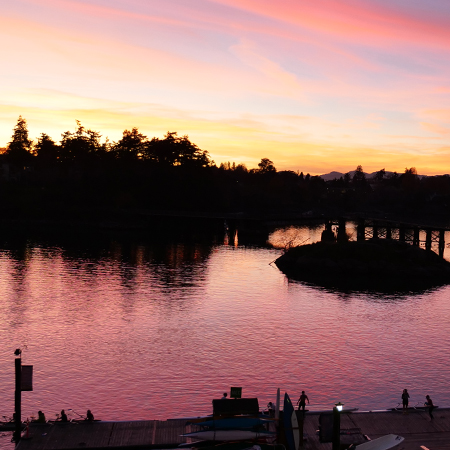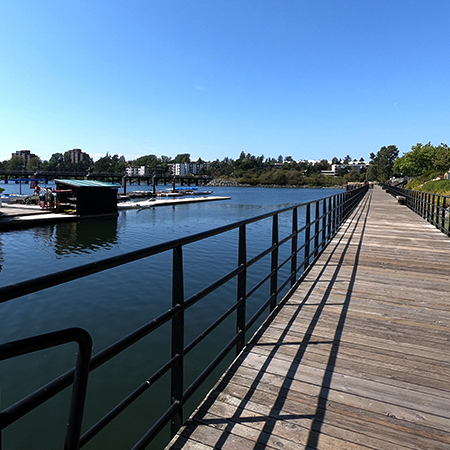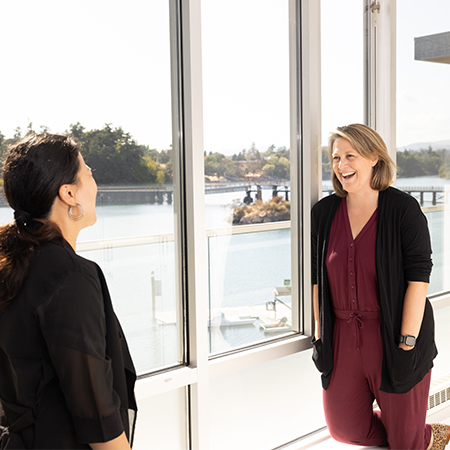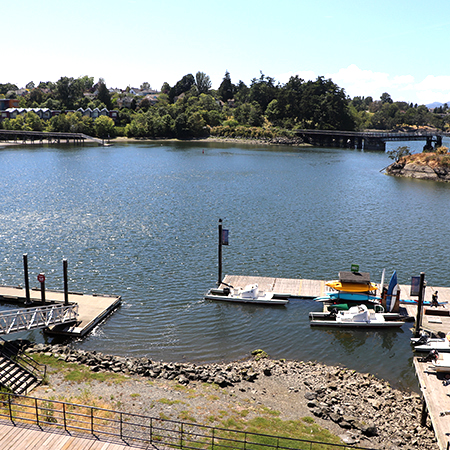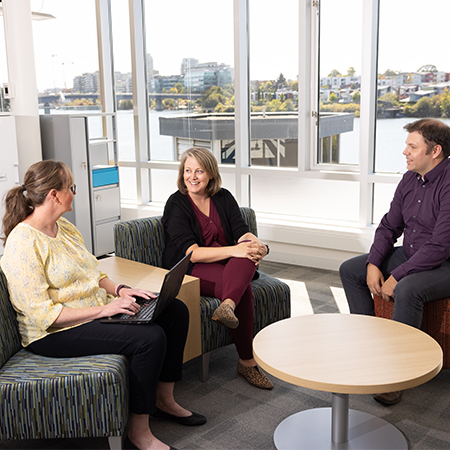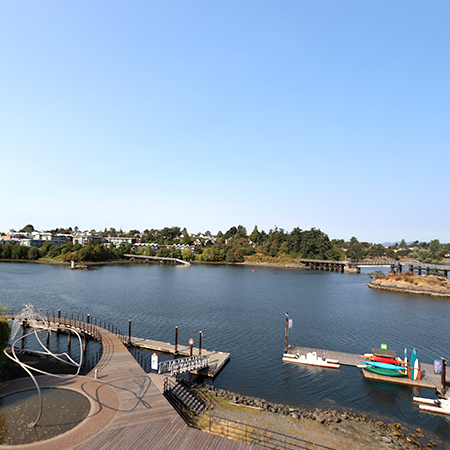 Where we work
Only two kilometres from downtown Victoria, BC, our office on the Selkirk Waterfront overlooks beautiful Gorge Inlet. We're minutes away from the world-class Galloping Goose Regional Trail for biking and walking. And the views of the downtown skyline and Olympic Mountains are sensational.

We are located on the traditional territory of the Lək̓ʷəŋən (Lekwungen) People, known today as the Songhees and Esquimalt Nations. We acknowledge that we live, work and play as visitors on lands belonging to the Lək̓ʷəŋən People since time immemorial and we honour their ongoing connection to the land.
Nearby amenities
The Selkirk Waterfront is home to restaurants and cafés, a gym and rowing club, shops, parks and green space. The Galloping Goose Regional Trail attracts cyclists and walkers and connects to downtown, View Royal, Saanich and the West Shore.
Getting here
Bike commuters can take advantage of a secure bike lockup area and shower facilities. Taking transit? You're eligible for a reduced-cost bus pass through the BC Transit ProPASS program.