CAR 2019-20 | Who we are - Corporate
Who we are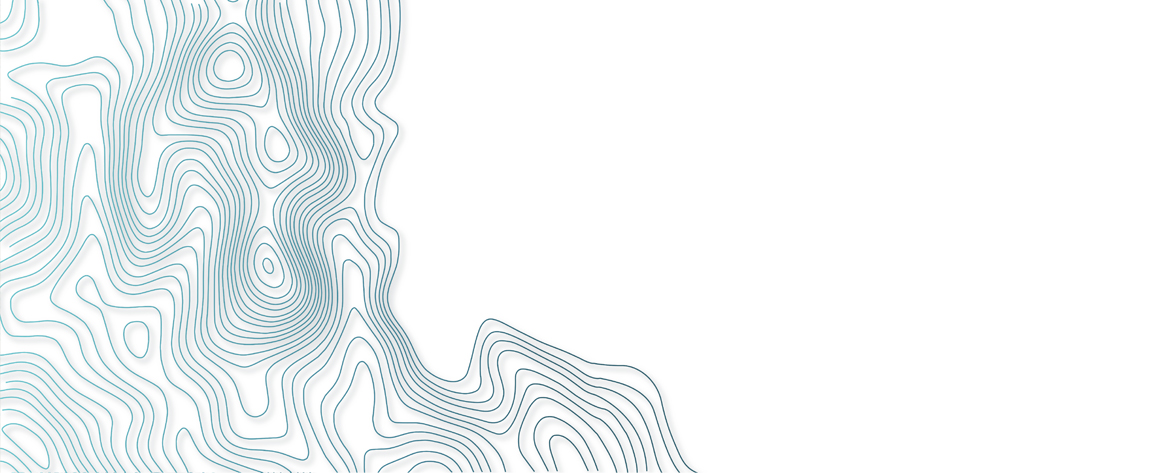 This past year, we united in a strong organizational community to adapt to change, rise to challenges and accept new opportunities with resilience.

As plan memberships grow, plans change, service becomes more complex and the world around us challenges how we do business, we continue to perform in the present while keeping our eyes set on the future.

In 2019/20, we invested in our technology, gained efficiencies and ensured we have the right staff with the right skills undertaking the right activities. We adapted when needed and reset our course to continue to deliver quality service to plan members, employers and boards of trustees.

With agility and flexibility, we are fulfilling our purpose to make the pension experience easy for those we serve.
Message from the CEO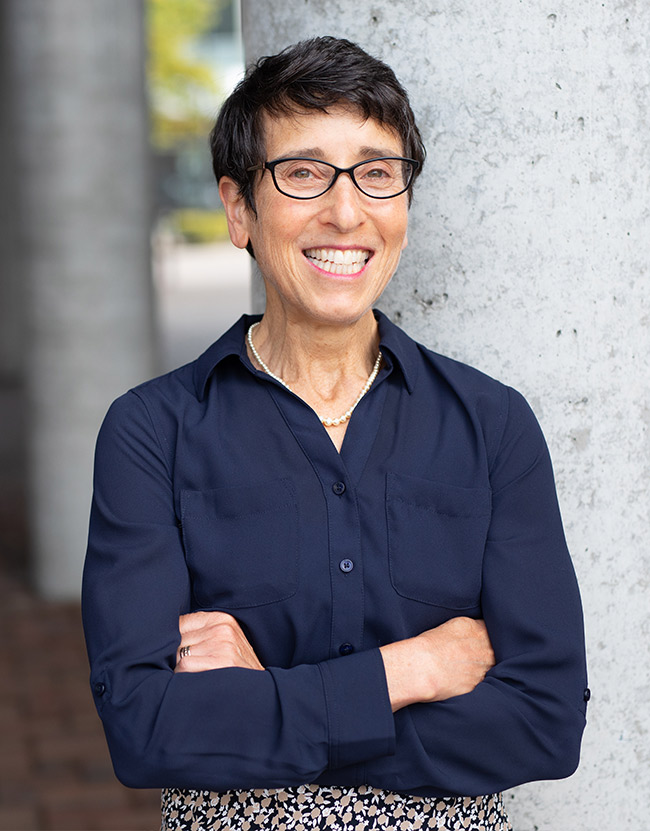 "Recency bias" has a way of drawing our attention to the things that happened recently, compared to remembering something that may have occurred a while back. And in this case, the recent and ongoing impacts of COVID-19 are inescapable and have a way of overshadowing the events and accomplishments that predate the pandemic. So let me start by addressing the recent events.
I am very proud of the entire team at Pension Corporation in our response to the pandemic. Our ability to move quickly and effectively from the initial crisis to a state of control speaks volumes about our business continuity plans, our progress on digitization, our prior technology investments and, above all, the resilience, commitment and engagement of our staff. Within days of the early news of the pandemic, most staff were working from home and establishing new work patterns and ways to connect with their colleagues to get work done and maintain our positive corporate culture. I often talk about the part every person plays in our success, and it was never so apparent than in the COVID-19 context. Everyone stepped up. Everyone played their part. In the end, we have come to understand that work is what we do, not where you do it.
This annual report highlights many of our accomplishments of the past year, aside from our response to the pandemic. As you will see, we've made important progress on digitization, increased online service for members, enhanced cybersecurity, introduced operational excellence, improved risk management and strengthened our leadership development—to name a few. And we've done all of this and more while being the lowest-cost service provider among our benchmark peers.
I'd like to thank the corporate board for their guidance and support as we navigated several challenges this year. And once again, my gratitude goes to the management and staff of Pension Corporation. Collectively, we are a stronger team, more productive than ever before with a culture that enables people to thrive. This is an outstanding place to work–whether remotely or in the office.

Laura Nashman
Chief Executive Officer
Message from the board chair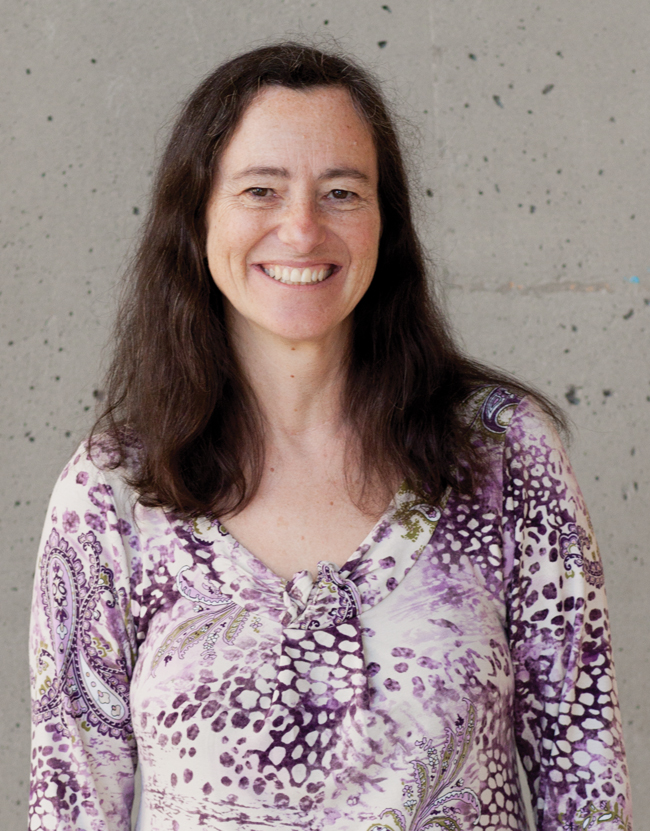 In 2012, CEO Laura Nashman and her team set a clear vision for BC Pension Corporation, creating a nine-year strategic plan, From 12 to 21, that would help it transform into a more mature, high-functioning organization in every way. This past year, the corporation moved through the middle of the last phase of this transformation. It remains determined to meet the changing needs and expectations of plan members and employers.
The board of directors is pleased to share BC Pension Corporation's 2019/20 annual report, a review of the organization's performance over the past year and a celebration of the initiatives begun, targets set and goals achieved. You'll see how the corporation moved forward in its transformation—how it digitized communications, added more online services for members and employers, improved online security and strengthened the organizational community—all while continuing to deliver excellent service every day to plan members and employers.
We know it's been a challenging year to navigate, with new plan designs requiring corporate-wide systems changes, cybersecurity continuing to evolve at a rapid pace and a global pandemic that shook the world. We are impressed with how Pension Corporation leaders and staff continue to rise to the occasion, finding growth opportunities in challenges and uniting when times are tough.
The people at Pension Corporation do important work for BC's public sector pension plans because they care about those they serve. They are passionate about understanding plan members and making their pension experience a positive one.
On behalf of the board of directors, I would like to thank Laura, her executive team and all Pension Corporation employees for their extraordinary efforts this past year. We are committed to offering our continued support.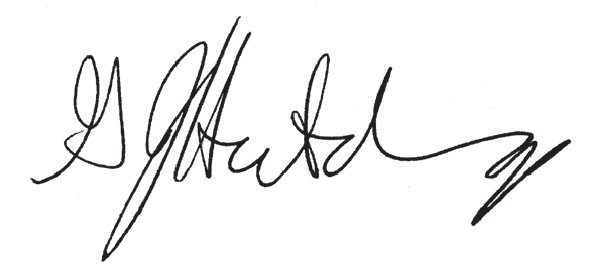 Geraldine Hutchings
Chair, Board of Directors
Who we are
Pension Corporation is one of the largest pension service providers in Canada and the largest in British Columbia. We apply our expertise in all areas of pension administration. We provide the right information at the right time so plan members can make informed decisions about their pension. We constantly learn and evolve our approach to client service to meet the changing needs of those we serve.
This year, we celebrate 20 years of service to BC public sector employees. Our success is thanks to our dedicated employees.
Plan highlights

Plan membership numbers
Total membership* in each of BC's five public sector pension plan: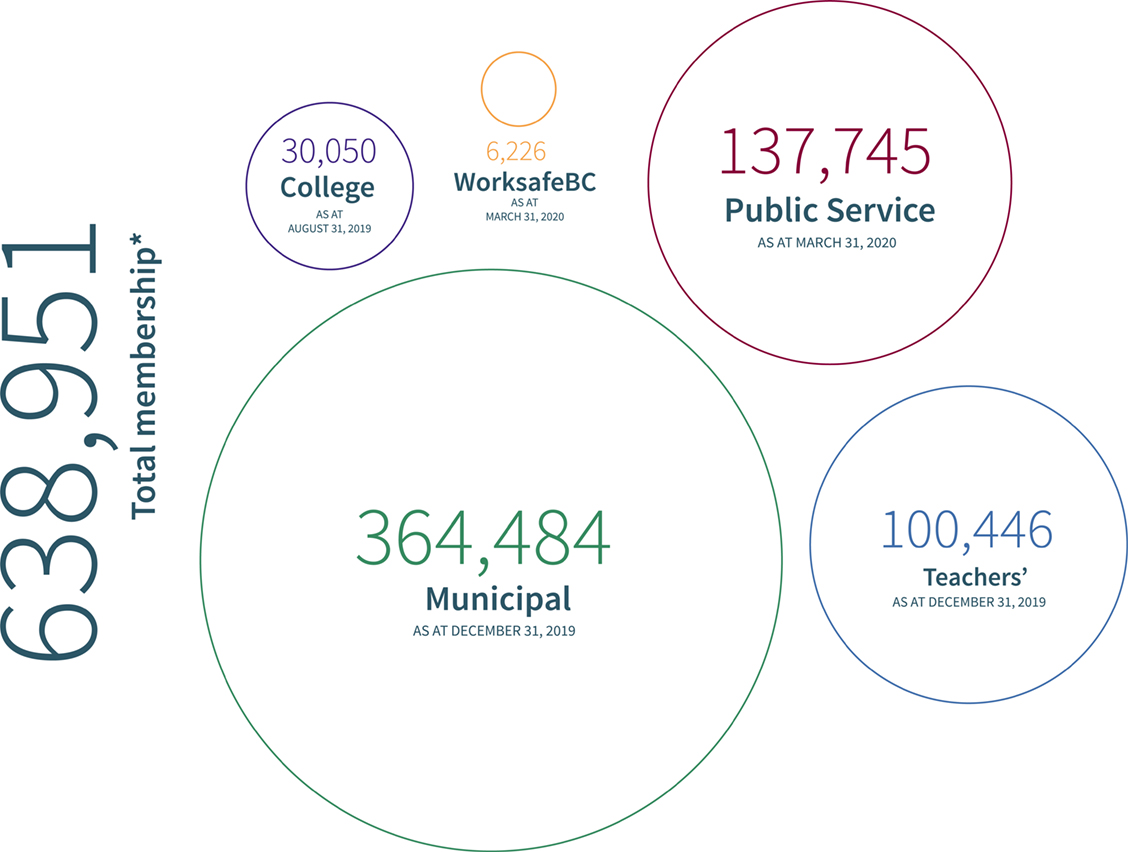 * Refers to active, inactive and retired membership. Inactive members are members who have ended their employment with a plan employer but left their contributions (or accrued benefit) in the plan. Note: figures are based on each plan's year-end reporting cycle.
BC Pension Corporation came into being when the first pension plan joint trust agreement came into effect with the proclamation of the Public Sector Pension Plans Act. Previously, member pensions were managed by the Superannuation Commission as part of the provincial government.
We are celebrating our 20th anniversary
April 1, 2020, marked our 20th anniversary. While COVID-19, work-from-home and physical distancing prevented us from observing this milestone together, we found ways to connect and interact virtually. We reflected on our past, celebrated our current achievements and looked forward to our future. We also came together in a fun and engaging way with contests on our organization's intranet, where all corporation staff (from the newest to the longest serving) could participate. The anniversary created a revived sense of community for all.
While the way we work has changed over the last 20 years and will continue to transform in the next 20, what remains constant is the importance and impact of our people and culture.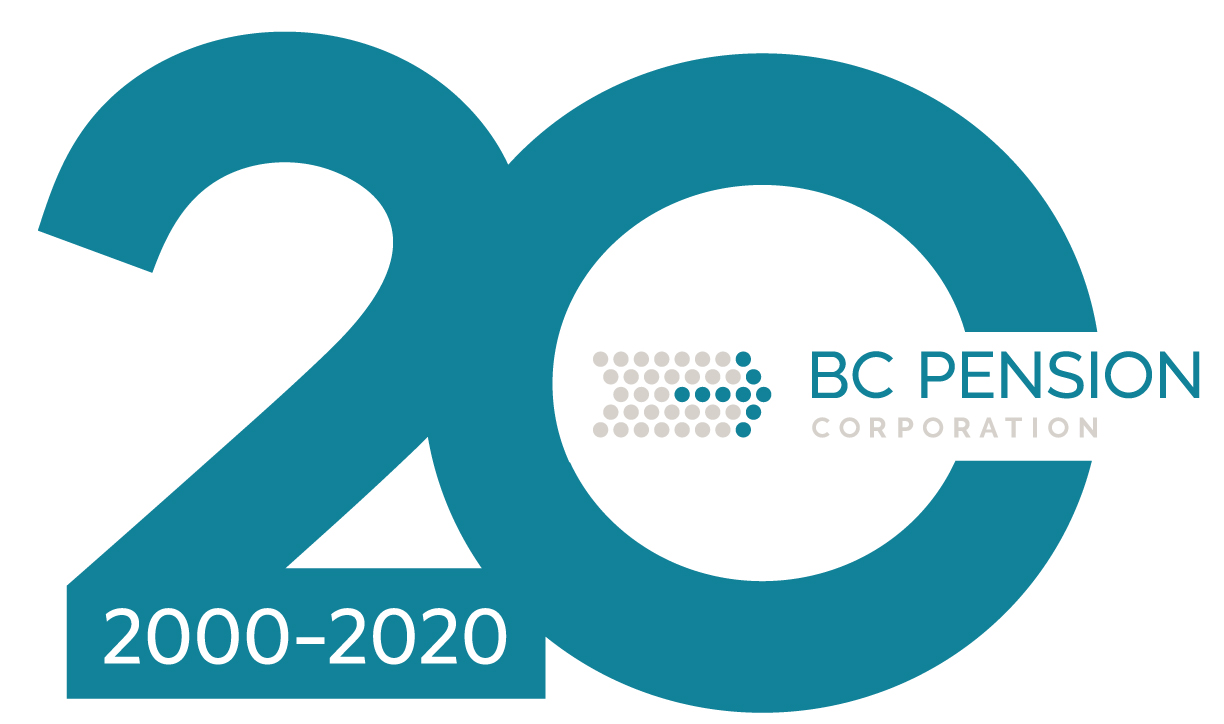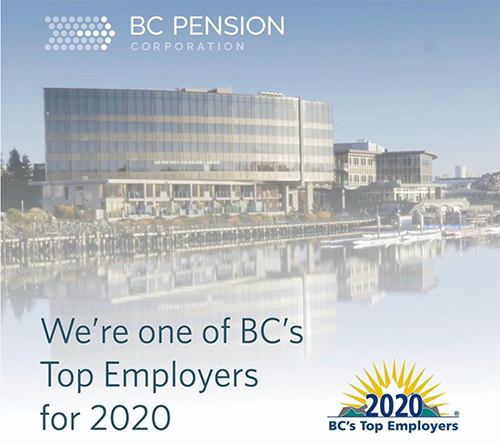 We're a BC Top Employer
Pension Corporation was chosen as one of BC's Top Employers for 2020. This is a special designation recognizing BC employers that lead their industry as exceptional places to work with the most progressive and forward-thinking programs. Check out canadastop100.com/bc for our 2020 winner review.
This award is a testament to our maturity as an organization. It's an acknowledgment of all of you who make our organization a special place to work.

— Laura Nashman, CEO
We share our knowledge
Pension Corporation hosted the annual Northwest Pension Peers Conference on October 23–25, 2019. It was an opportunity for us to interact with our pension peers, collectively share our knowledge and experiences, and discuss current topics of note in the pension industry, such as how to build an operational excellence program, aligning security program activities with organizational goals, and the evolving roles of employers in pension plans.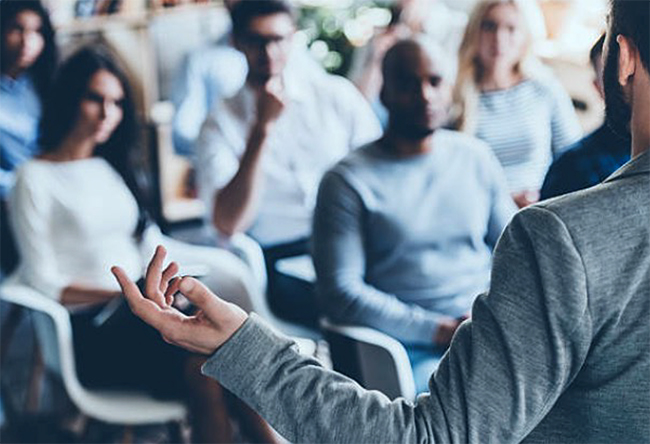 Our Leaders
Our executive team carries out our strategic plan and keeps us focused on our operational and strategic goals. They guide Pension Corporation as we serve plan members, employers and trustees, and invest in our people.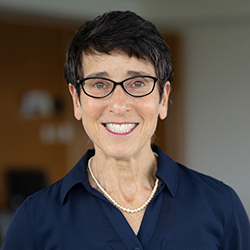 Laura Nashman
Chief Executive Officer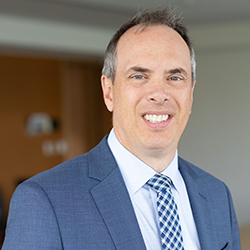 Trevor Fedyna
VP, Strategy and Insights, and Chief Financial Officer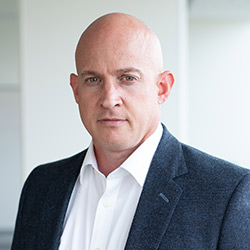 Brett Emmerton
VP, Information and Technology Services, and Chief Information Officer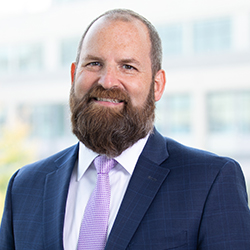 Aaron Walker-Duncan
VP, Board and Communication Services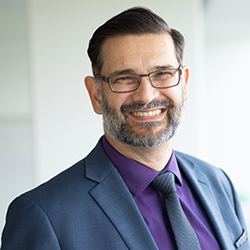 Joel Levinson
VP, Member and Employer Experience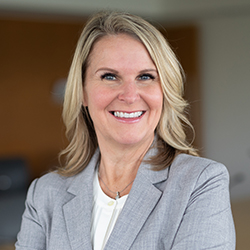 Erika Taylor
VP, People and Culture
We build our leadership
Erika Taylor, our new VP of People and Culture, is an accomplished leader with close to 20 years' experience developing and delivering strategies for talent management to support high-performing workforces and workplaces. Erika will develop a structure for the new division to help us create the best alignment of people and processes, and put an even greater focus on people and culture as we embark on our new strategy in 2021.
Brett Emmerton, our new VP of Information and Technology services, and chief information officer, has a depth of international experience in IT, public sector digital transformation, education and research. Brett has led public sector transformation initiatives in both federal and provincial governments. His leadership will be invaluable in our final year of From 12 to 21 and as we move into our next strategic plan.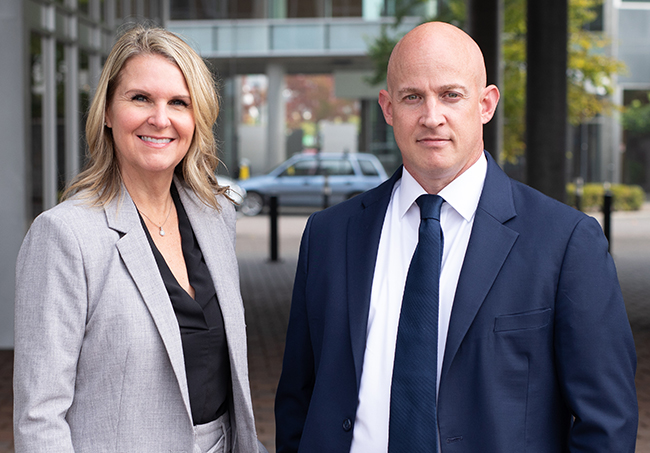 Our Board Of Directors
The collective knowledge and experience of the BC Pension Corporation Board of Directors informs the strategic planning and direction of Pension Corporation. Trustees provide careful, thoughtful oversight and sound governance. The corporate board includes a plan member and plan employer representative from each of the following plan boards.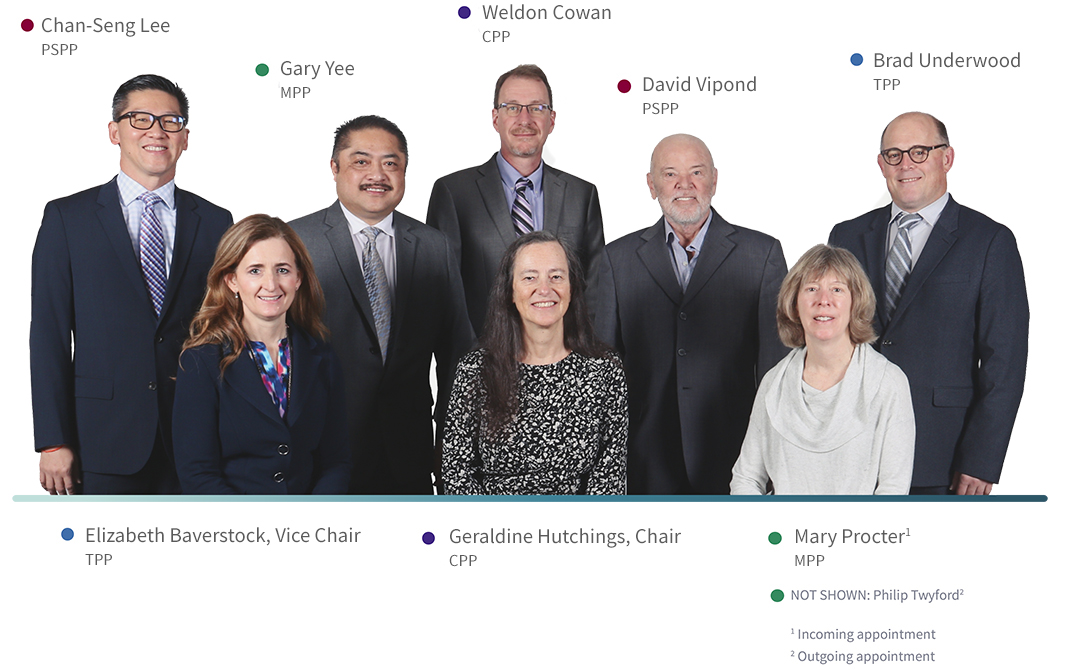 Where we are in our strategic plan
We are in the middle of the third and final phase of our strategic plan, From 12 to 21: Our Way Forward, an ambitious plan of business transformation. Throughout, we have remained focused on improving the member experience, doing mission critical compliance work and supporting digitization for automation. We've also begun our effort to become an insights-driven organization.

Key drivers of our
From 12 to 21

strategic plan
Increasing need for information and process management
Rising stakeholder expectations
Growing complexity and diversity in plan design and administration
Evolving demographics and client service expectations for service
Shifting workforce characteristics